Why Team Fabiani?
3/4/2022 (Permalink)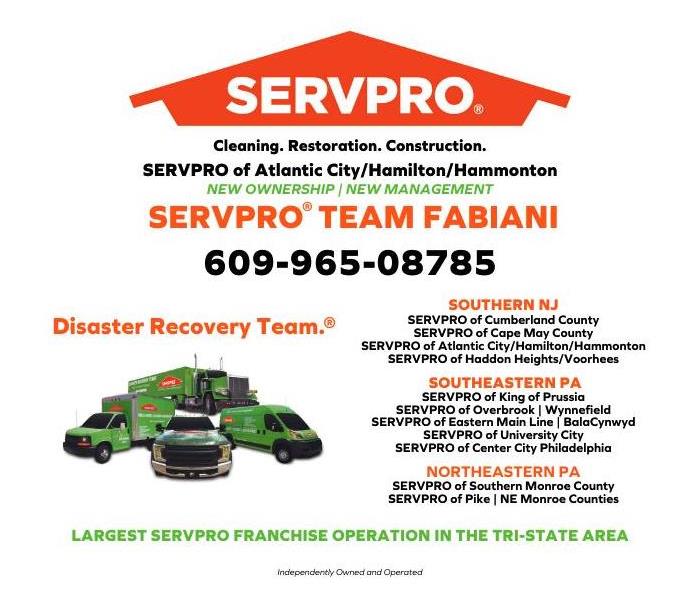 Why SERVPRO® Team Fabiani? Team Fabiani Atlantic City, Hamilton, Hammonton is Ready to Help When Disaster Strikes!
We service all industries, including: Retail, Food Service, Healthcare, Hospitality, Education and Property Management, and here's why we should be Your Local Disaster Recovery Team®
We're the #1 Cleaning/Restoration Company in Entrepreneur's 2022 Top 500 Franchises
Largest SERVPRO Franchise Operation in the Tri-State Area
Over 16 years in Commercial/Industrial Restoration and Construction
We're Faster to Any Size Disaster and Provide Emergency Services 24/7, 365.
We have the equipment, training and resources to be Ready for Whatever Happens. Here is who we are:
Catastrophic Restoration Specialists
Nationwide Resources (1,900+ Franchises)
Best in Class: Technology & Equipment
Commercial Emergency Ready Program
Preferred Vendor for Insurance Companies
Master Service Agreement
Call a Franchise Professional at 609-965-0885 for whenever you may need:
Fire, Smoke, Water, Mold, Biohazard or Vandalism Cleanup
Restoration, Remediation and Bio-remediation
Structural Drying
Smoke and Soot Removal
Deodorization
Structural Cleaning/Decontamination
Specialty Building & Contents Cleaning
Commercial HVAC Cleaning
Hoarder Cleanouts
Emergency Services & Deliverables:
Generators | Temporary Power
Roof Tarping and Boardups
Temporary Fencing
Structural Stabilization
Shrink Wrap Protection
Site Containment / Property Security
Water Extraction (Category I, II, III)
Dehumidification
Demolition
Complete Reconstruction with Quality Workmanship:
General Contracting
Structural Repairs / Insulation
Basement Refinishing
Kitchens, Bathrooms, Floors, Doors & Windows
Cosmetic Finishes / Millwork
We also offer: Building Damage Consulting; Damage Reports Services; Industry-Standard, Detailed Estimates; Environmental Testing (Mold, Asbestos & Lead); Electronic Equipment Restoration; Textile, Garment, Art & Photo Restoration; Onsite and Offsite Storage; and Document Drying & Reproduction.
We're located in Buena, NJ and are here to serve you when you need help. We can make it, "Like it never even happened."