Fall is the time to prep your property for winter
10/16/2015 (Permalink)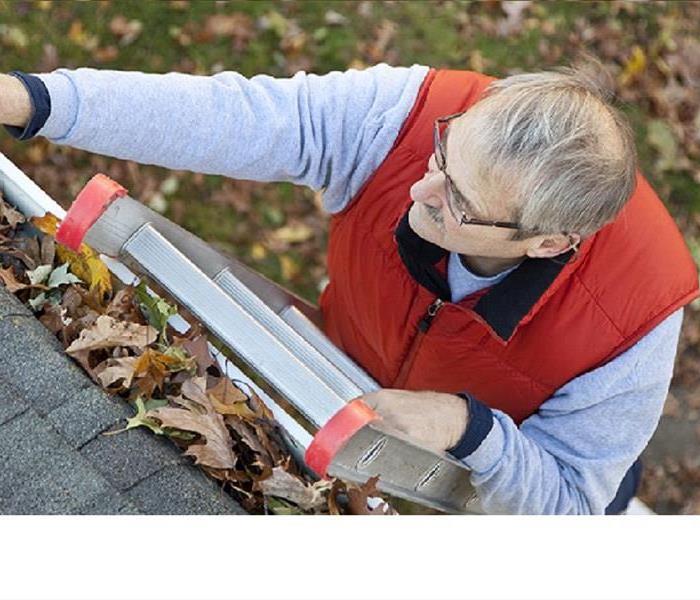 Fall is the time to prep your property for winter
1) Prepare for Winter Storms
Ice dams are an accumulation of ice at the lower edge of a sloped roof. When interior heat melts the snow, water can run down and refreeze at the roof's edge, where it's much cooler. Should ice buildup block water from draining off the roof, the water is then forced under the roof covering and into your attic or down the inside walls of your property.
· Make sure your gutters are clear of leaves and debris.
· Keep the attic well ventilated so snow doesn't melt and refreeze on the roof's edge.
· Make sure the attic floor is well insulated to minimize the amount of heat rising through the attic from within the house.
Water intrusion and flood damage from melting snow and ice can threaten property, but by taking the following steps it can help minimize the potential for damage.
Immediately after the threat of physical danger has passed:
· Make sure the building is structurally safe to enter or reoccupy.
· Turn off electrical power. Do not use electricity until it is safe to do so.
· Ensure that natural gas sources are safely secured.
· Secure the exterior to prevent further water intrusion. This can include boarding up broken windows, making temporary roof repairs, sealing cracks or tacking down plastic sheeting against open gaps in walls or roofs.
When it's safe to begin cleanup:
· Disconnect all electronics/electrical equipment and move it to a safe, dry location.
· Begin to remove water-damaged materials immediately.
· Contact SERVPRO of Haddon Heights/Voorhees or SERVPRO of Atlantic City/Hamilton/Hammonton for assistance with extraction and drying.
· By taking immediate action, you will reduce the amount of damage and increase the chance of salvaging usable materials. You'll also reduce the amount of rust, rot, mold and mildew that may develop, and lower the likelihood that the water will lead to structural problems.
2) Prevent Plumbing Freezes
· Pipes in attics, exterior walls and crawl spaces are most vulnerable to extreme cold.
· Check on all vacant units.
· Simply turning off the water is not sufficient for a property that is to be left unoccupied for a long period - a lot of water is still in the system, and can cause damage. To remove the risk completely, have a plumber drain down the water and central heating system. Or alternatively, be sure the heat is on and set to at least 55 degrees.
· If you go on vacation, leave the heat on, and set to at least 55 degrees.
· Locate your water main in the event you need to shut it off in an emergency.
· Drain all garden hoses.
· Insulate exposed plumbing pipes.
3) Inspect Roof, Gutters & Downspouts
· Check flashing to ensure water cannot enter the property.
· Replace worn roof shingles or tiles.
· Clean out gutters and downspouts.
· Consider installing leaf guards on the gutters or extensions on the downspouts to direct water away from the property.
4) Check the Exterior, Doors and Windows
· Inspect exterior for crevice cracks and exposed entry points around pipes; seal them.
· Use weather-stripping around doors, and caulk windows to prevent cold air from entering the home.
· Replace cracked glass in windows. If you end up replacing the entire window, prime and paint exposed wood.
· If your home has a basement, consider protecting the window wells by covering them with plastic shields.
· Switch out summer screens with glass replacements. Install storm windows, if you have them.
5) Fireplace Inspection
· Cap or screen the top of the chimney to keep out rodents and birds.
· Call a chimney sweep to remove soot and creosote, if the chimney hasn't been cleaned for a while.
· Buy firewood or chop wood. Store it in a dry place away from the exterior of your home.
· Inspect the fireplace damper for proper opening and closing.
· Check the mortar between bricks and point, if necessary.
6) Furnace Inspection
· Call an HVAC professional to inspect your furnace and clean ducts.
· Remove all flammable material from the area surrounding your furnace.
7) Check Foundations
· Rake away all debris and edible vegetation from the foundation.
· Seal up entry points to keep small animals from crawling under the house.
· Point or seal foundation cracks. Mice can slip through space as thin as a dime.
· Secure crawlspace entrances.
8) Prepare Landscaping & Outdoor Surfaces
· Trim trees if branches hang too close to the house or electrical wires.
· To prevent winter injury, ask your landscaper when your trees should be pruned
· In areas where the ground freezes, plant spring flower bulbs and lift bulbs, such as dahlias, that cannot withstand winter temperatures.
9) Prevent Slip and Falls and Other Liability Issues
· Inspect all property entrances and common areas to ensure they are well lit.
· Clean Leaves and debris
· Also have plenty of ice melt on hand to prevent injuries
While you can't change the weather, you can minimize some of winter's biggest threats to your property. With some sensible planning you can avoid surprises this winter.